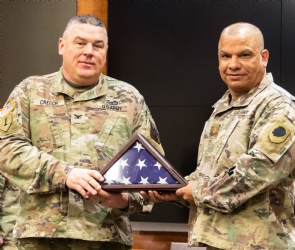 Maj. Ivan Ortiz of Oswego, Illinois, a member of Montgomery Memorial Post 7452, retired from the Illinois Army National Guard after nearly 36 years of military service during a ceremony held Saturday, March 5, at the Illinois Military Academy on Camp Lincoln in Springfield.
Ortiz, who grew up in Chicago, is employed fulltime as an engineer with the Illinois Department of Transportation (IDOT). He has been employed by IDOT for more than 20 years. He retired from the Illinois Army National Guard as the Materials Management Branch Chief in the U.S. Property and Fiscal Office.
He served as both a Soldier and a Sailor graduating basic training twice – once for each service. He served in the Army Reserves from 1986 to 1987, then as an active-duty Navy Sailor from 1988-1991, and then in the Navy Reserves from 1992 to 2005. In March 2005 he transferred from the Navy into the Illinois Army National Guard's Officer Candidate School. After graduating from the school and earning his commission, he has spent the last 17 years as an Ordnance Officer in the Illinois Army National Guard.
"Take advantage of all the education benefits that the military and the Illinois National Guard offer," Ortiz advised those starting their military careers. He used the Illinois National Guard Grant as an example, which waives tuition at all state colleges and universities for Illinois National Guard members. He also advised those in the audience to start each day by identifying realistic, achievable goals.
Ortiz holds a bachelor's degree in construction management/engineering from Purdue University and a master's degree in project management from DeVry University. He is also a licensed journeyman carpenter.
Throughout his career, Ortiz has supported military operations in Africa, South Korea, and Kuwait. He deployed twice to the Middle East in support of Operation Enduring Freedom, from January 2014 to November 2014 and from October 2018 to May 2019.
Ortiz commanded Co. B of the 405th Brigade Support Battalion after serving as the company's executive officer. He served as a platoon leader with the 3625th Maintenance Co.
After company command, he served as an executive officer within the 108th Sustainment Brigade. He served on two active-duty tours, as a manpower studies analyst with National Guard Bureau's G-1 (personnel office) and as a logistics officer with 1st Army on Rock Island Arsenal.
Prior to serving as Materials Management Branch Chief, he served as a logistics officer with the 244th Digital Liaison Detachment based in Chicago.
Ortiz was awarded the Meritorious Service Medal upon his retirement as well as an Army Achievement Medal for his work during the Bright Star multinational exercise hosted by Egypt in 2021. He has multiple other awards and decorations from throughout his career.